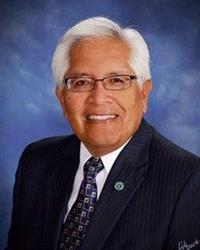 Ronald ("Ron") J. Solimon
Vice Chair, Laguna Development Corporation
Biography
Ron is a member of the Pueblo of Laguna, which is one of the nineteen Pueblo Indian Tribes of New Mexico.  His paternal bloodlines also go to the Pueblo of Zuni.  He received his Bachelor of Business Administration degree from New Mexico State University, College of Business Administration & Economics, and his Juris Doctor degree from the University of New Mexico School of Law.
Following a distinguished career in several industry sectors, including economic development at the tribal level, advocacy at the national level for American Indian and Alaska Native enterprise development, defense contracting, government & public relations, gaming & hospitality, travel & tourism, and higher education, Mr. Solimon now provides business development representation and other consulting services to various companies and organizations through his own company—Solimon Business Development & Strategy (SBDS) LLC.
Ron is the former Director of the Center for Lifelong Education ("CLE") at the Institute of American Indian and Alaska Native Arts ("IAIA") in Santa Fe, New Mexico.  He retired from this position in June of 2015.  Prior to joining the President's Cabinet at the Institute of American Indian Arts, Ron served as the Executive Director of the Indian Pueblo Cultural Center, Inc., President & CEO of Indian Pueblos Marketing, Inc., a for-profit, federally-chartered corporation and Indian Pueblo Cultural Center, Inc., a not for profit, state-chartered-corporation.
Ron currently serves on several local, state and national boards and commissions, including Laguna Development Corporation, the National Center for American Indian Enterprise Development, Inc., and the Laguna Community Foundation, Inc.  Most notably, Ron was recently selected and sworn-in to service (8.14.2019) on the newly established New Mexico State Ethics Commission. He was also re-appointed (on 8.12.2022) to serve on the Laguna Development Corporation Board of Directors where he serves as Vice Chair. This will be his fourth 3-year term of service on the Laguna Development Corporation Board of Directors. Ron serves as the Chair of the Laguna Community Foundation.
Ron most recently completed terms of office on the following boards and commissions:
the Albuquerque Commission on Indian Affairs;
the New Mexico First Board of Directors.;
the Smithsonian Institution's National Museum of the American Indian;
the Albuquerque Community Foundation;
the University of New Mexico Health Science Center;
the Native American Professional Parents Resources, Inc. ("NAPPR"); and
the Haverland Carter Lifestyle Group, Inc..
At the national, state, and local levels Ron also served on the boards of the following organizations:
the S Travel Association, the Tourism Association of New Mexico (now known as the "New Mexico Hospitality Association");
the American Indian Alaska Native Tourism Association; and
Albuquerque Convention & Visitors Bureau (now known as "Visit Albuquerque").
Ron was elected to the New Mexico Tourism Hall of Fame in 2013.
Ron has received many awards and accolades for his service and advocacy in the several industry sectors in which he has worked.  Ron and his wife Elaine live in Albuquerque.  They have two adult children, two grandsons and two granddaughters.