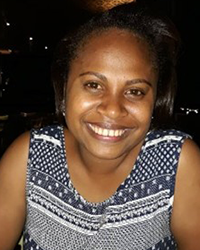 Nicole Isifu
Managing Director, AgBook Agribusiness Training and Advisory Ltd.
Biography
Nicole Isifu believes that every farming family deserves the knowledge to transform their land from a subsistence garden to a profitable small business.  Nicole's aspiration in business started at 19 years of age when she founded the Kokopo Youth Entrepreneur Group in 2017.  Nicole progressed to start her own company and now is the Managing Director of AgBook Agribusiness Training and Advisory Ltd and delivers a range of training and business coaching programs to support business growth in the agriculture sector.  She firmly believes that young people can play a larger role in transforming the agriculture sector.
AgBook has delivered financial literacy and farming as a business programs to many farming groups.  Her clients include PNG Agriculture Company, United Nations Food and Agriculture Organisation, Wafi Golpu Joint Venture and the Adventist Development Relief Agency.  AgBook has plans to distribute training and coaching services throughout Papua New Guinea so that farming families can increase incomes and savings, improve farm profitability, and lead the lives they choose.