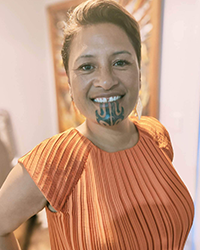 Rachel Petero
Founder & CEO, Rise Global
Biography
RACHEL TE RAU E WHA PETERO(NEE TAKA)
INDIGENOUS ENTREPRENEUR, GOVERNOR, AUTHOR
With strong Māori genealogy to her tribal lands and people of Waikato- Tainui, Rachel advocates and drives gender equity, diversity and inclusivity through her leadership roles in governance, business and community development.
Rachel's management consulting business grew exponentially from 2010 starting in London, UK to Doha, Qatar and returning home to Aotearoa, New Zealand in 2015. She continues to receive recognition and awards as the Founder of Rise2025, Women leading change Qatar and her internationally recognised leadership, business and coaching programmes.
Internationally trained in Human Resources, Executive and Business Coaching, her vision for Rise2025 Global is to transform the lives of 100,000 Indigenous women and their families by 2025.
Against all odds, in May 2020, Rachel secured a new global partnership with Shopify Canada to launch 'HIWA' an e-coaching, e-commerce programme for Indigenous women.
And in October 2020, she launched her first co-authored published book titled 'Take Your Space' sharing the secrets of 14 successful and diverse women.
Through her corporate business development and governance experience as Co-Chair of Te Ohu Whai Ao Trust, Trustee on Ngāti Tamaoho boards, Rachel continues to remain locally grounded and globally focused. With partnerships in the UK, Middle East, Pacific Islands, Chile, Canada and North America she also holds Cultural Advisory roles for Sysdoc NZ (since 2018) and Otara Bluelight Committee (since 2016).
Rachel has stepped into the Vice Chair role of UNICEF Aotearoa New Zealand in May 2022 and an International Director role with IP CFT Los Lagos in Chile in January 2022 ensures Rachel brings a truly global focus with a unique Indigenous lens. Her ministerial governance role with Pacific Cooperation Foundation ended in January 2022.
Alongside her husband John, (Niuean, Cook Island, Tongan) they are investing and expanding their for purpose business Rise 2025 to pass on to their six nieces and nephews.
Ko Wai Au
Ko Waikato te awa Ko Waikato te iwi
Ko Taupiri te maunga
Ko Te Wherowhero te tangata Ko Tainui te waka
No Waikato-Tainui ahau
Ko Ngāti Tamaoho, Ko Ngāti Whawhakia, Ko Ngāti Te Ata, Ko Ngāti Tahinga ngā hapu
Ko Mangatangi, Ko Te Ohaaki, Ko Tahuna, Ko Weraroa ngā marae topu
Ko Rachel Te Rau E Wha Petero toku ingoa
Governance roles:
Ngāti Tamaoho – Charitable & Settlement Trustee
Te Rau Korimako Board Director
Unicef Aotearoa NZ Vice Chair
Te Ohu Whai Ao Trust – Co-Chair
Otara Bluelight – Governance Committee Chair
IP CFT Los Lagos – International Director, Chile